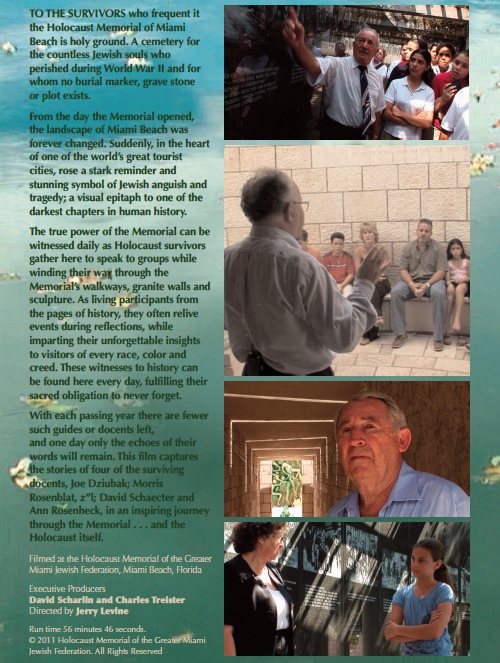 You may purchase your own DVD of
Echoes of the Holocaust
for just $25, plus $4 shipping and handling
within the continental United States.

Send your check in the amount of $29 to:

Holocaust Memorial of the Greater Miami Jewish Federation
1933-1945 Meridian Avenue
Miami Beach, FL 33139

This DVD was produced by the Holocaust Memorial of the Greater Miami Jewish Federation, and 100% of the proceeds from its sale will further the efforts of the Memorial to fulfill its mission. Committed to promoting education, outreach and understanding among people of all ages and backgrounds, the Memorial offers lectures, teacher seminars and school tours. Holocaust survivors serve as docents at the Memorial, providing testimony and explanations for visitors. Programs are also organized to commemorate Kristallnacht, Holocaust Memorial Day, Yom Hashoah and other important dates on the Jewish calendar.
Located at 1933-1945 Meridian Avenue, Miami Beach,
the Holocaust Memorial is open 9 a.m. to sundown daily.
There is no charge for admission.
For further information: Tel (305)538-1663 - Fax (305)538-2423
info@holocaustmmb.org
www.holocaustmmb.org